The crisis we are facing now made us realize that the most crucial thing in the world is not our money but our health. As the world is battling a novel virus, the awareness of prevention has grown since the cure is not yet known.   The pandemic has dramatically changed our ways of life, and health becomes the most precious thing in the world now.   Wherever or whoever we are, no one is safe. Anyone can be infected. But there is hope. Data shows that those affected with an underlying disease don't usually survive.   While many of those victims who have strong immune systems have recovered from the virus, or, if you have a robust immune system, you are at low risk of being infected and have a higher possibility of surviving after getting infected.   How can we prevent getting sick?
Simple. Stay healthy and have a robust immune system.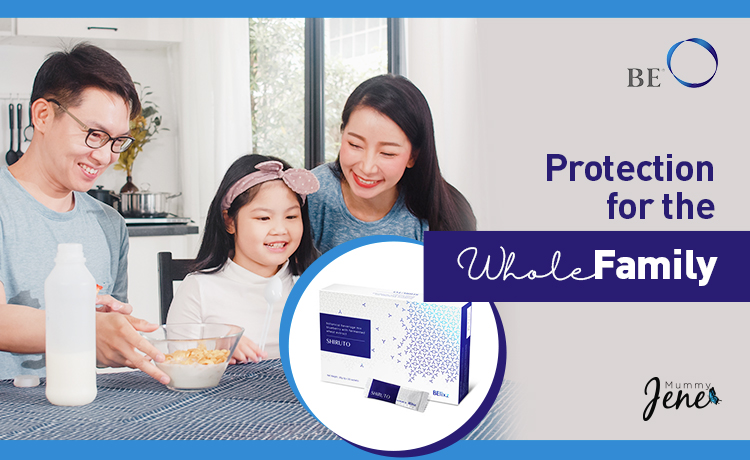 How to strengthen our immune system?
To improve our immune system, we have to maintain a healthy lifestyle:
Get enough sleep at least 6 to 8 hours
Exercise regularly
Healthy diet
Consume supplements that boost your immune system
Proper Stress management
Stay hydrated
As a working mother, getting enough sleep is almost impossible. Although I will try to take a walk 30 minutes a day and eat healthy foods, I still need to take the best vitamin for immunity, so I am safe from illnesses. I can't afford to be sick around my family, and I'm sure, if you're a parent like myself, you'd agree with me on this.
Belixz Shiruto – The best vitamin for boosting your immunity
One trusted supplement that I am using now is Shiruto from the Belixz series by BE International. It is clinically proven to boost our immune system. It works as a shield to our body by activating macrophages which helps in fighting against diseases. It has undergone the unique patented fermentation process and extraction process to ensure optimum performance. The world Shiruto actually means "shield" in Japanese. It shields your body from pathogens which can cause harm and sickness in your body. There are 4 key elements to Belixz Shiruto and I will explain them below:
1. Unique ingredients
Belixz Shiruto contains a key ingredient call IP-PA1(Immunopotentiator from Pantoea agglomerans 1) What is IP-PA1? IP-PA1 is a wheat extract collected from a proprietary fermentation process. It is important vitamins for our immune cells. What IP-PA1 does is it binds to the macrophages surface receptor call TLR4 to activate macrophages. Back in 2011, three scientists discovered the key principles of immune system activation and was awarded the Nobel Prize in Medicine.
The Nobel Prize in Physiology or Medicine 2011 was divided, one half jointly to Bruce A. Beutler and Jules A. Hoffmann "for their discoveries concerning the activation of innate immunity" and the other half to Ralph M. Steinman "for his discovery of the dendritic cell and its role in adaptive immunity."
Source: The Nobel Prize in Physiology or Medicine 2011. NobelPrize.org. Nobel Media AB 2018. Fri. 14 Dec 2018.
The other ingredients in Belixz Shiruto are blueberry powder, Maltitol, Vitamin C, baker's yeast extract and silicon dioxide.
2. Patented fermentation and extraction process
Belixz Shiruto was created through a unique and patented processing method designed to ensure optimal performance of IP-PA1.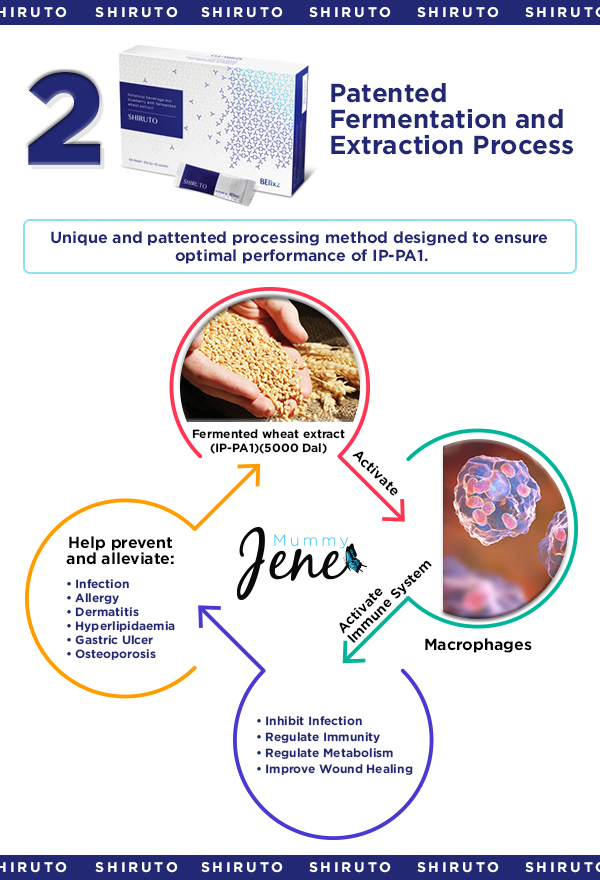 3. Clinically proven: activating the macrophages
The IP-PA1 in Belixz Shiruto sachet is clinically proven in protecting our body. The following are some of the clinical test results.
4. The first and only ingredient recognised by the CIITRA from Japan
CIITRA stands for Control Of Innate Immunity Technology Research Association. Basically it is an association created to study and promote the science and technology related to our natural immune system. The first and only ingredient recognised by CIITRA is IP-PA1. The following is a timeline of the discovery of IP-PA1. From the year 2010 until present, the Innate Immunity Control Technology Research Association (certified by the Ministry of Economy, Trade and Industry Japan) was established to conduct further research and development (R&D) on IP-PA1. This shows the immense potential in IP-PA1 and Japan has channeled more resources to uncover more of its secrets.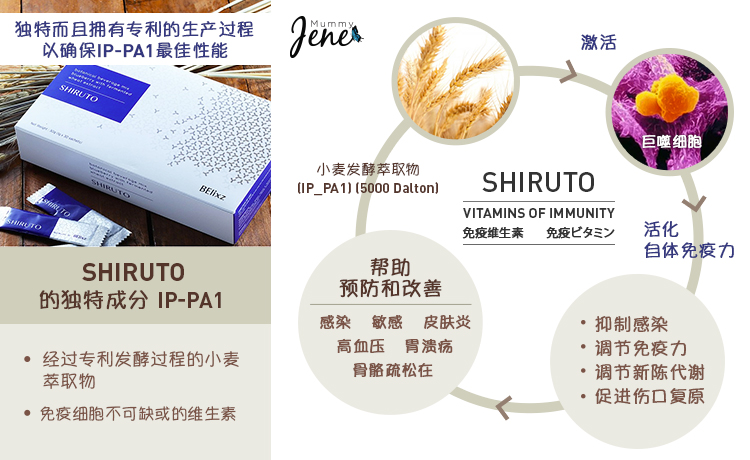 How to consume?
How do you consume or eat the product? You can mix it with water and drink it but i would like to open and pour it into my mouth directly it taste sweet and sourly.
What is Shiruto's recommended dosage?
Children: 1 sachet daily
Adult: 2-4 sachets daily
Testimonials
The following are my daughter testimony after taking Belixz Shiruto.
Disclaimer: Your results from taking Belixz Shiruto may differ from the testimonials above. What worked for others, may or may not work for you.
Ingredients
Key ingredients: Fermented Wheat Extract Other ingredients: Blueberry Powder, Maltitol, Vitamin C, Baker's Yeast Extract, Silicon Dioxide.   Every day, we inhale millions of potential pathogens. We made contact and even consumed these pathogens without our knowing. And what if one of those pathogens is the coronavirus?   No one is safe. That is why we are advised by the WHO–always to wear a mask, sanitize, and wash our hands. Also, to strengthen our protection, boosting our immune system is a must. And I have proven that Belixz Shiruto is the best vitamin for boosting your immunity.

Why did I choose Belixz Shiruto?
So when it comes to boosting my immunity, I would never take any chances. That is why I only trust a supplement that is proven to be safe and effective for my family and me. This pandemic surely teaches me a great lesson. One is prioritizing health above all else because we cannot function well if we are not healthy.   Before, I usually prioritize my wants and my cravings without thinking about how it would affect my health. I am overly active and always want to do all things at once, resulting in less time to rest and being stressed out, without realizing that it significantly affects my immune system.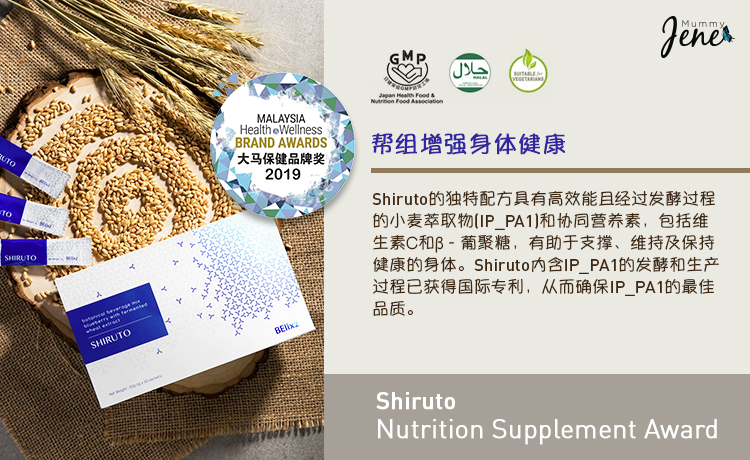 Conclusion
Taking care of our health is essential. Because staying healthy and strong is also protecting our loved ones and the people we get to encounter daily.   So as a mom with little kids depending on me, I need my Belixz Shiruto to waken up my immunity.   "Prevention is always better than cure", especially at this time that the cure is still unknown.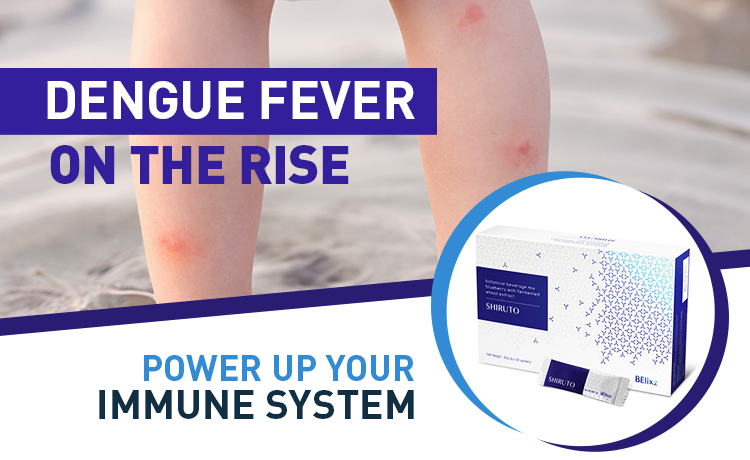 What Is Belixz Shiruto?
Belixz Shiruto is an immunity vitamins or supplement that helps to support, sustain and maintain a
healthy body
system.
What ingredients is in Belixz Shiruto?
The key ingredients in Belixz Shiruto is Fermented Wheat Extract (IP-PA1). There's also the other ingredients such as Blueberry Powder, Maltitol, Vitamin C, Baker's Yeast Extract and Silicon Dioxide.
What are the benefits of Belixz Shiruto?
Belixz Shiruto able to protect our body from harmful bacteria, regulate our immune system, eliminate aged and abnormal cells as well as repairing damage cells.
How to consume Belixz Shiruto?
It is recommended to consume Belixz Shiruto orally or mixed with water (less than 40 Celsius ). For children age 2 and above, is recommended to take 1 sachet daily. For adult, is recommended to take 2-4 sachets daily.
Where to buy Belixz Shiruto?
Belixz Shiruto is an exclusive product by BE International, where's only their member can make purchase. For those that interested to know more, you may fill up the form in the end of this article.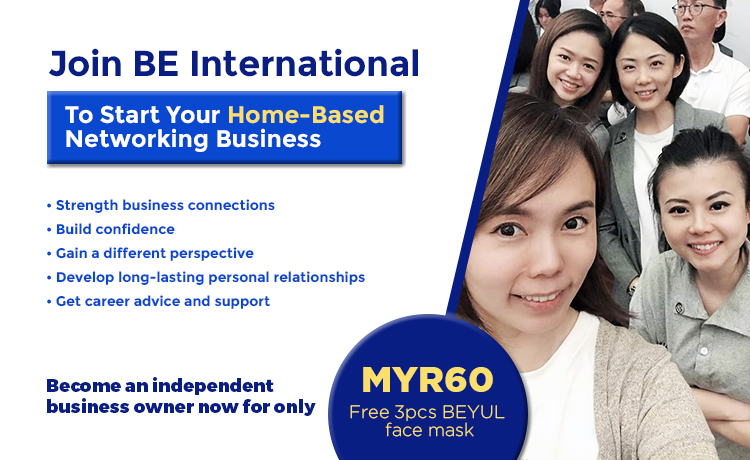 Interested to know more about Belixz Shiruto by BE International?  Contact me thru Facebook messenger here or just fill up the form below and i will get back to you real soon